Jesus: A Theography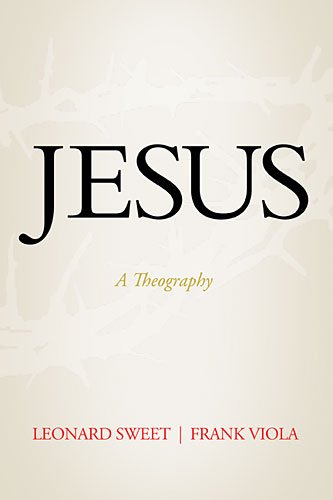 I'm looking forward to reading Jesus: A Theography, by a couple of my favorite writers, Frank Viola and Leonard Sweet, which is now available for pre-order. It promises to be as good -- even better than Jesus Manifesto, the last work they penned together -- and one of the best books I've read recently.
What follows is a description from Frank Viola's blog, which I frequent regularly, a starred review by Publishers Weekly, the Table of Contents, a sample chapter, and pre-ordering links

.
Back Cover Description
Jesus says, "THE SCRIPTURES POINT TO ME!" (JOHN 5:39 NLT)
But what does that mean exactly?
INTRODUCING A NEW KIND OF JESUS BIOGRAPHY
In this compelling work, authors Leonard Sweet and Frank Viola reclaim the entire Bible as a gripping narrative about

Jesus Christ.
Virtually every other "Jesus biography" begins with the nativity account in Bethlehem. In this groundbreaking book, Sweet and Viola begin before time, in the Triune God, and tell the complete interconnected story of Jesus from Genesis to Revelation.
Jesus: A Theography is the first book ever written to combine historical Jesus studies with biblical theology, crafting together one breath-taking saga that tells the Jesus story in both Old and New Testaments. This flagship book demonstrates clearly that every bit of Scripture is part of the same stunning drama, what the authors refer to as the theography of Jesus Christ.
The twenty-seven books of the New Testament are largely a commentary on the Old Testament, and each part of the Bible is a signpost to Jesus. Once this is properly understood, everything changes, including our own identities. In this magisterial work you will discover Jesus who is larger, more glorious, and more challenging than most of us have ever imagined.
Biographies of Jesus generally have been written by those trying to investigate the historical Jesus, with little attention given to the grand narrative of Scripture. On the flip side, those interested in tracing the theology of Scripture are typically disinterested in historical Jesus studies. These two approaches have yet to converge. . . until now.
Jesus: A Theography is written for the average reader as well as scholars. Leonard Sweet and Frank Viola (authors of Jesus Manifesto) unfold the greatest story ever told in a fresh and invigorating way.
So whether you are a seasoned Christian, a new believer, or someone who is intrigued by Jesus, this book unveils the discoveries of a lifetime, transforming the tired and familiar way we have read the Bible into an electrifying journey of rediscovering Christ.
Starred Review from Publishers Weekly
The man we know as Jesus of Nazareth continues to fascinate us as new insights into his life and ministry appear at a breakneck pace. Add to this heady mix this important new work, a theological biography by two fine expositors of scripture. Their thesis is simple: for Christians, the theme of scripture from Genesis to Revelation is Jesus Christ, his ministry and teaching.
The authors

insist

that "reading Scripture through a theological lens" gives the reader a fuller and more comprehensive view of the biblical text. Although the focus is on a new reading of the gospels, the authors reach back into the Old Testament and show how its people and stories informed and guided Jesus in his mission.
And all of this is to demonstrate how an omniscient God has worked through history, and through history's actors, to bring about his purposes, and how "the Jesus story recapitulates and replays the major biblical dramas and narratives of the Hebrew Scriptures." This is an excellent work every thoughtful Christian will find profitable. (Oct. 2012)
Table of Contents
Introduction: The Jesus Story
1. Christ Before Time
2. Christ in Creation: The Macro Version
3. Christ in Creation: The Micro Version
4. Jesus' Birth and Boyhood
5. Jesus' Missing Years
6. Jesus' Preparation for Ministry
7. Jesus' Baptism and Temptation
8. Jesus Chooses His Disciples
9. Jesus' Mission Statement
10. Jesus: Healer and Miracle-Worker
11. Jesus: Teacher and Preacher
12. The Human Jesus
13. Jesus' Trial and Crucifixion
14. The Atonement and the Harrowing of Hell
15. The Resurrection, Ascension, and Pentecost
16. The Return of the King
Conclusion: The Jesus Spirit
Appendix: Post-Apostolic Witnesses
Notes